This may come as a surprise, but I'm not a fan of the internet. I think it's much too invasive. We no longer have any sense of real privacy – and we're doing it to ourselves. For all of the wonderful things the internet has to offer (like, for example, being able to read this wonderful website), most of us have chosen to spend our time brainlessly scrolling through newsfeeds and giving our brains to wither away on social media.
I know. I probably sound like an old guy. You can almost hear me yelling things about "In my day…" in the subtext of this article. But I understand that it's a double-edged sword; there is a lot of good that has come and will hopefully continue to come from the internet.
Jonathan Coulton, who's concept and co-writing with Matt Faction's new Solid State graphic novel, seems to be on my level, and I appreciate this immensely. I sometimes feel overwhelmed by the lack of privacy and the looming corporate presence over our social media. In Solid State, two men separated by decades both feel the need to break free of their oppressors. Past Bob, a computer programmer, and Future Bob, a worker forced into a job he knows nothing about. Future Bob lives in an existence filled with supplements and fake smiles; his world is synthetic and cold, made all the more unsettling by the insistence by everyone around him that everything is happy and beautiful.
Well, it's not, and Future Bob is not living in the real world. In the future, no one is. It's a fake reality filled with forced smiles and hidden intentions. Future Bob wants more out of this life – he wants to break free from his cage.
In the past, so did Past Bob. Both of them will soon find out, however, that their actions will have dire consequences. It also begs the question: what is the difference between guilt and shame? And do the ends really justify the means?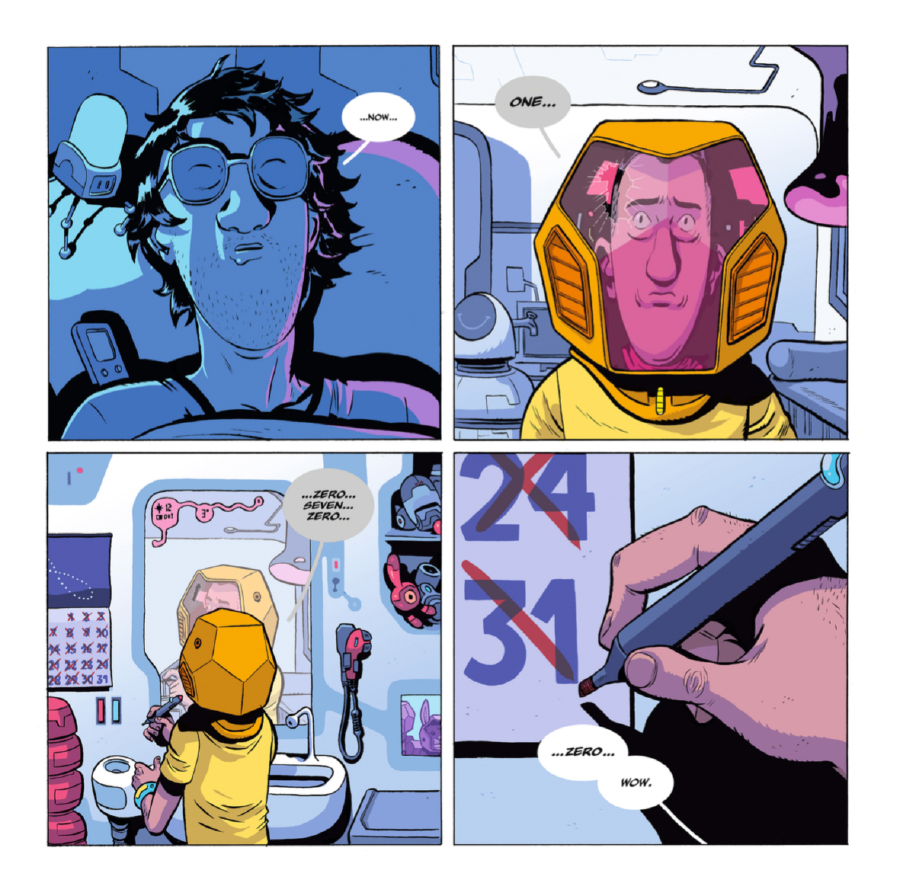 Coulton's story is accompanied by an album of the same name, comprised of songs that follow the concept of the graphic novel. It's a great idea, made even better that the dimensions of the novel are made to fit the same ones as a vinyl jacket. The album is quirky and playful, much like the book. Yet there's an underlying message found in both that is in stark contrast to the major keys and cartoony art.
Speaking of that art – wow. What a treat for the eyes. Albert Monteys' art in Solid State may be the best that I've seen this year. Every single panel was nothing short of a joy to read. It fits the dialog perfectly. For example: In frustration, characters are prone to yell "beans and cheese!" in place of other four letter words. Coulton's quirkiness seems to know no bounds.
This science-fiction story co-written by Matt Fraction wants to make a statement and that drive that point home, and it certainly gets the job done. There's a lot that can be said about our willingness to hand over our privacy in this day and age, and though I don't think this will sway anyone into completely becoming a social media renegade, I don't think it's intended to. If nothing else, Solid State will make you reconsider how much you value your privacy and what you're really saying when you click "I accept".
Solid State, written by Matt Fraction and Jonathan Coulton, is set to hit comic book stores on 7/26 and the shelves of bookstores 8/1. You can find more information here.
Publisher: Image
Writers: Matt Fraction, Jonathan Coulton
Art: Albert Monteys