Anyone who has read both King and Lovecraft will be able to pick out Lovecraft's presence in The Mist eventually. The creatures, Lovecraftian in description are, well…described as being Lovecraftian. If by this point in the novella you didn't pick up on the classic author's influence, you most certainly did with that word choice, used about 3/4ths through the book.
But for me personally, the most entertaining aspect of Lovecraft's presence in The Mist is in the way King emulates him. The style is uniquely cold for a Stephen King story. It is written in a way that could be best described as distant and convoluted. I've often said that reading Stephen King is like having an Uncle read you a scary story before bed as a child; he's going to tell you horrible, horrible things, but he's always there to laugh when you get too scared or comfort you with his presence alone. In The Mist, that comfort is gone.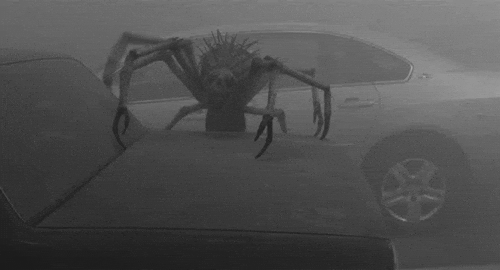 Let's take the opening of the novella, for example.
This is what happened.
Could he have been any more direct? The first sentence of The Mist declares that, from a first person point of view, the events are factual and in the past. The narrator is not trying to make sense of it – often in a story by Lovecraft, the narrator is on the brink of insanity and isn't able to make sense of anything. He simply tells the event as best he could.
King would tell you himself that he's prone to emulate other writers. He makes the statement that any writer that is also an avid reader will do the same (something I wholeheartedly believe). In On Writing, his autobiographical work on his literary journey, he writes:
"We also read in order to measure ourselves against the good and the great, to get a sense of all that can be done. And we read in order to experience different styles. … When I read Ray Bradbury as a kid, I wrote like Ray Bradbury — everything green and wondrous and seen through a lens smeared with the grease of nostalgia. When I read James M. Cain, everything I wrote came out clipped and stripped and hardboiled. When I read Lovecraft, my prose became luxurious and Byzantine."
Reading an H.P. Lovecraft story, say, The Call of Cthulhu, and The Mist back-to-back is an interesting experience. King borrows many themes and even hints of Lovecraft's writing style and makes it something wholly his own. The story begins with something innocuous yet curious and quickly turns into something terrifying and unknown. People in a New England town are put in a situation where they don't understand what's going on and are left to their own devices. Some go insane. The religious turn fanatical. Mistrust and confusion run rampant, and eventually, people die en masse by tentacled beasts.
One of the hallmarks of Lovecraft is his tendency to create bleak and unforgiving endings. This is in stark contrast to King's original ending to The Mist, which ends on a hopeful and empowering note. But Frank Darabont, who wrote the film version of The Mist, remedied this. Whether or not he knew what he was doing, he turned a story with heavy Lovecraftian influences into a movie that Lovecraft could have written himself. And it would seem that Mr. King was in favor of this. He had this to say in 2007:
Frank wrote a new ending that I loved. It is the most shocking ending ever and there should be a law passed stating that anybody who reveals the last 5 minutes of this film should be hung from their neck until dead.
So, yeah, I can't really tell you what happens – I have too much respect for the man to do that (and I don't want to be hung) – but I will tell you that he is not exaggerating. It is one of the most shocking endings I've ever seen in a movie. It will leave you stunned. If you haven't seen it, you should immediately.
While the TV version of The Mist rolls forward, it may be worthwhile to go back and do some heavy reading. Read a Lovecraft story and then follow it with King's. Watch the movie and see how it evolved from the novella. If nothing else, getting yourself acquainted with H.P. Lovecraft will give you more insight into the way that Stephen King's horrifying, terrible brain works. And you know you want exactly that.