Writer: Doug Moench
Artist: Kelley Jones
Colors: John Beatty
Publisher: DC
What happens when you take Batman and suck the substance right out of the character? What happens when you also add in magic, unreasonable and ridiculous explanations for everything, and rewrite his story to take all tragedy out of it? What happens when, after wreaking all the above havoc, you put nonsensical art to accompany it?
Haunted Gotham. That's what you get.
Here I am, once again, writing a review that I do not want to write. Who wants to sit at a computer and bash a character that you sincerely appreciate? Not me, that's for sure. But, alas, here I am, doing it to poor ol' Batman this time.
Haunted Gotham is a confusing read. Confusing, because I'm not sure how writer Doug Moench thought any of this would be a good idea. Taking Gotham and adding a supernatural aspect, to me, is cool as all Hell. But changing his origin story so that his parents were killed by a poorly-depicted werewolf is not. Here, Batman is not created out of tragedy. Instead, he is created out of something his father had planned for him in a secret society and then reveals to Bruce Wayne as a ghostly specter after he is killed by said werewolf. That is not Batman. That is not what Batman is, at all.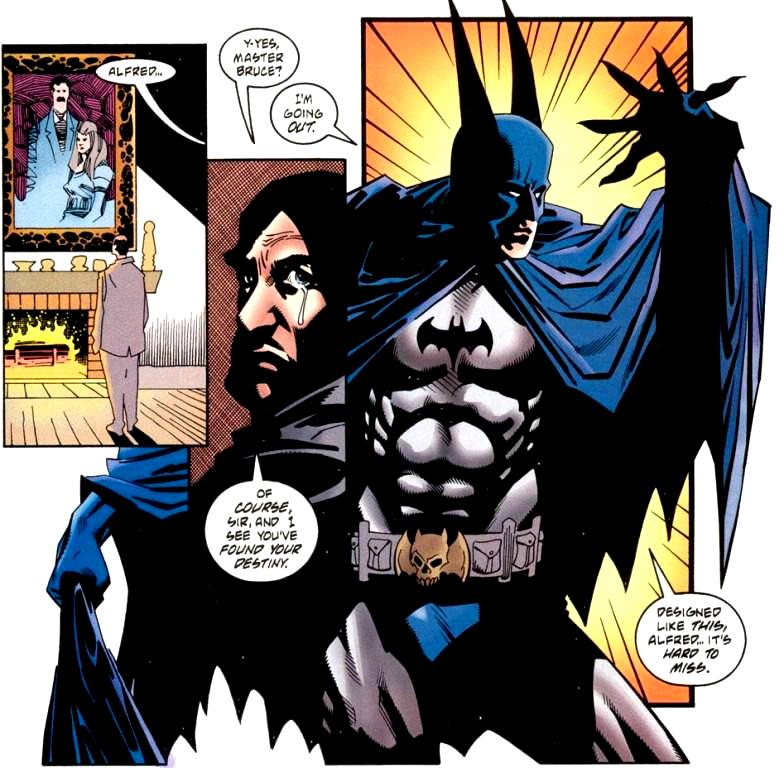 It bothers me to no end when great characters are stripped down and taken away from their identities. Batman is not about what he looks like; it's about who he is. He is born from pain. This is what gives him substance. Do not be fooled – even though the character here looks like Batman, it most surely is not. I have no idea who this character is.
Further gripes about the book come from the art. Look – I'm an artist, too. I make music, and I also write. Hearing harsh criticism really sucks. But so does this art. Perspective is never really figured out, and character's faces change every panel; bodies are bulky and clumsy. I have no idea how this comic went to the printer like this. Once again, I feel bad – no, I feel terrible insulting Kelley Jones' art, but come on. A Batman story deserves much better than this.
Even the colors don't really do anything for the book here. Darker shadowing and more intense hues could have helped the mood of the story, but they just look as if someone carelessly colored things in.
I don't know what to say. I honestly and truly feel like a bad person for ripping apart a book like this. I'm not even sure why I was given this to review. Is this someone's idea of a bad joke? If anything, Haunted Gotham should be read by everyone as an example of how not to make a Batman story. So, at least it has that going for it.
Oh, and by the way, Batman is not supposed to kill. Come on! Someone needs to get Doug Moench and Zack Snyder into a room and have a very long talk with the two of them.
/end rant. That's the score on this one. Don't talk to me or my son about this comic ever again.