I'm in Chainsaw Heaven.
After what seemed like an eternity (I have zero patience), Ashley J. Williams is back in the second season of Ash vs Evil Dead, and it might just be the best episode yet. This is not only horror television done right; this is entertainment done right. Everything you could have hoped for (and more) is given to us in a glorious, blood-drenched display in the season premiere, titled "Home".
No, not the X-Files episode – but it's just as good. The last time we left our sardonic hero, he carelessly made a deal with Ruby (Lucy Lawless) to leave his friends alone in exchange for the Necronomicon. Something is bound to go wrong (this is Ash we're talking about here, people), and before long the dead are among us once again. This time, in the fabled land of Jacksonville. Party on.
There were some jokes that didn't quite make the mark during the last season, and although the season was nothing short of stellar, there were some complaints. The CGI, for one thing, got old pretty quickly. Ash's dialogue, while usually spot-on, definitely could have used a little bit more finesse. And while these are only minor complaints in an otherwise outstanding show, I can happily say that all of these rough edges seem to have been smoothed out.
It seems as if the series simply needed to find its footing, as this is the first live-action media of Evil Dead that hasn't been directed by Sam Raimi (he directed only the pilot episode). It's standing strong now, packed with action, fun, and some hilarious lines delivered perfectly by the show's star, Bruce Campbell. "Home" had me laughing out loud from the start, hitting every hack, slash, and one-liner right on the nose. The blood even looks like it's been improved; the shade is a darker red and looks slightly more realistic here than it did during most of the first season. Small critiques, but come on; I'm an Evil Dead fanatic.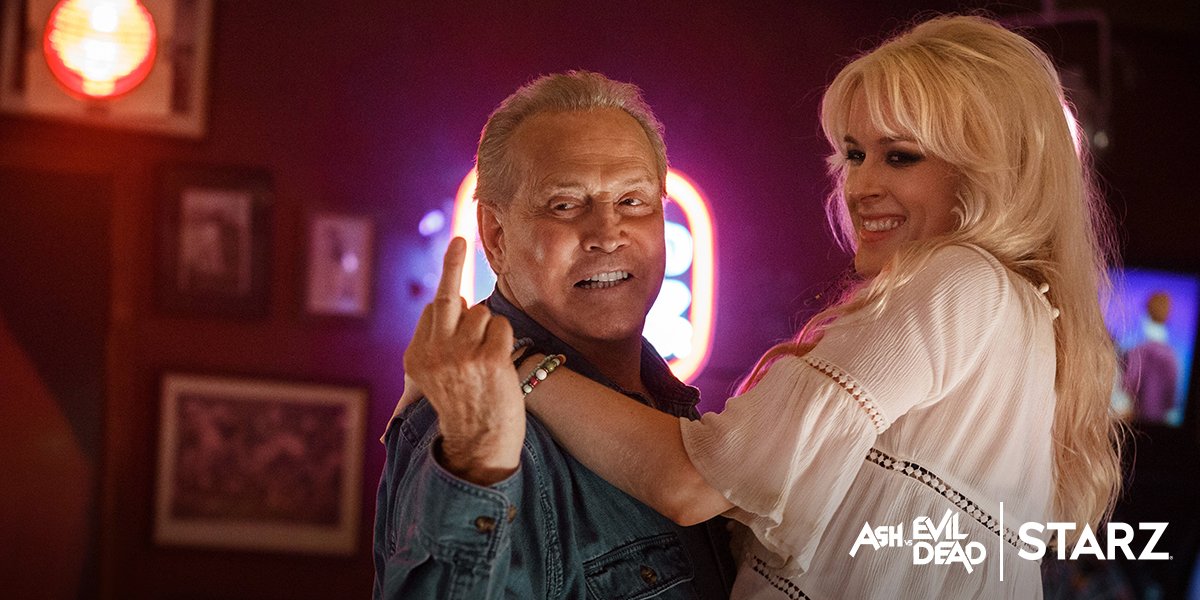 We also get some interesting insight as to what Ash's background is like. After all, he did go to a cabin and kill all of his friends. Ash vs Evil Dead allows us to see Ash coming back to his hometown and face the criticism of the locals. "Ashy Slashy" is what they mockingly call him, and it seems to embarrass the hero to no end. After all, how could anyone else understand what he had to go through?
Ash vs Evil Dead gave us some story about the creation of the Necronomicon, but I'm more interested in Ash. Seeing his dad is a treat in itself, and the casting could not be any more perfect. Lee Majors, best known for his role in The Million Dollar Man, portrays Brock Williams. Suddenly, Ash's demeanor makes perfect sense. It's a great scene, and more interaction between the two in further episodes would be a welcome direction for the series to go in.
Long story short: the latest episode of Ash vs Evil Dead is the best one yet.
In the immortal words of Bon Scott, If you want blood – you got it. I think he may have also written lyrics about having a chainsaw for a hand, but I'm not too sure. Here's to a promising future for an already amazing show.