Scott Snyder and Jeff Lemire's A.D.: After Death continues to deliver in every aspect. As the second issue wraps itself up, we are left with some answers – but even more questions. The great mystery surrounding After Death seems to be unraveling; but what will be the final outcome in the next issue?
Being that this is book two of three, the issue serves its job as a transitionary piece. Don't take that like I'm putting it down, however; it's transitionary, yes, but it's still very gripping and thought-provoking. As we learn more about the situation Snyder has written himself into, we encounter more and more problems. It's true that humans have cured death, but it asks us to think about what the point of that even is. There are no more children. There are only so many ways you could live your life over before finding the whole process to be dull and repetitive.
Sure, we are able to listen to symphonies that have been playing a single song for years straight. We are able to even discover new notes that have never been heard by the human brain before. But as Jonah puts it, the notes just end up sounding the same. What do we really have to gain from living forever?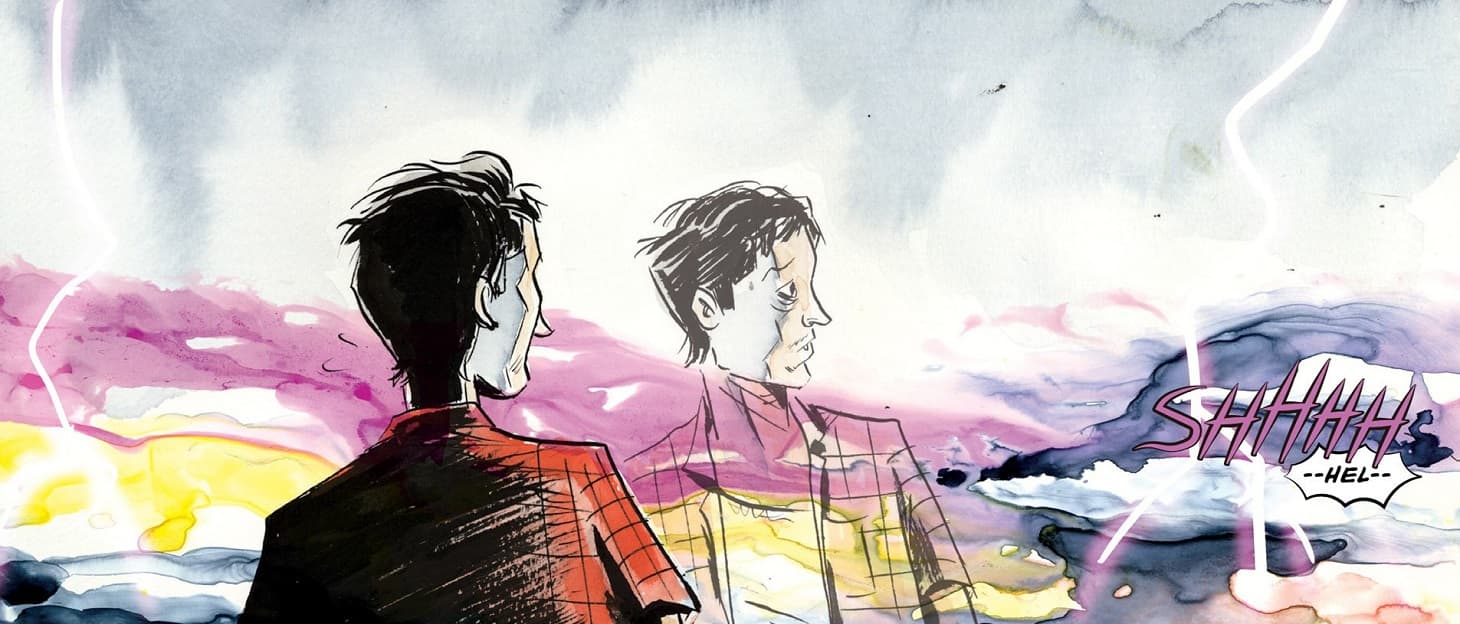 What I admire so much about the narrative within this book is that these questions never need to be explicitly laid out. We glean information from how the characters interact, throwing unnecessary exposition by the wayside. And even though much of the narrative is spent by main character Jonah musing over how this all came to me, it doesn't seem to bog down the storyline with too many details.
Snyder does take the time to explore more about how this situation came to fruition, as well as exploring the inner workings of Jonah's thievery ring, but he makes it a point not to overexplain. Had A.d.: After Death driven us further into obscurity, I'm not sure that this second issue would be much fun. There's only so much ambiguity that I can handle before it just gets aggravating. I know I'm not alone on that one, either.
Lemire's artwork here is just as fantastic as ever, and as the story progresses the watercolors seem more and more fitting. They give everything an ethereal, dreamlike quality. This matches the constant narrative flips between real time and reflection perfectly. Having Jonah's thoughts as blocks of words on a page instead of directly showing it was an excellent choice. Had they illustrated everything, this would be taking way more time than only three issues.
Much like the introductory issue, this book contains many layers that are rich with questions and heavy subjects. As we near the final issue, we are left wondering how Jonah's story will conclude. Are we going to be getting a happy ending, one that satisfies the reader with sunshine and rainbows? I highly doubt it. The way this is going, and with the subjects that Snyder have brought upon us, I think that the ending is going to be a double-edged sword.
The Geeked Gods Score: 9/10. Excellent.
As we near the conclusion, things start to get even more interesting for Jonah. Great artwork and great storytelling make this series a must-read so far.